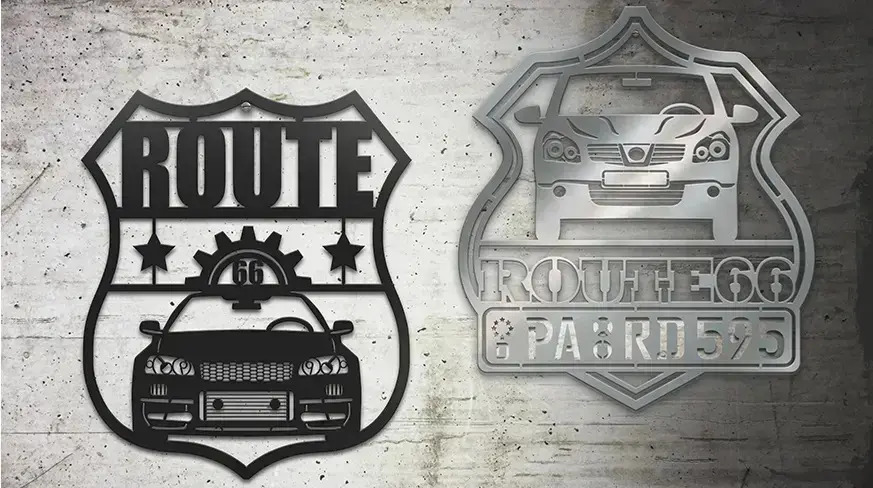 Finished with your car model
Create your own individual "Route 66" tin sign with the help of our construction kit, in which your chosen car becomes the motif. Simply select the right make, the correct model and the year of manufacture.
You personalize
Choose the right one for you from various colour designs. We also offer the "Route 66" sign in two versions: Classic and Roadster. You can also enter your licence plate number to create a truly unique piece.
Original gift
The USA road sign is an exceptional gift for real car lovers and road cowboys. What could be more personal than an accessory with your own car model?
Features of the "Route 66" sign

Modern accessory with your car silhouette



GALLERY TIN PLATE "ROUTE 66
In the size you need
We offer the Route 66 signs in different sizes. The sizes range from "S" to "XXL". You can find the exact dimensions in the kit.
German value product
You get a cleanly finished product. The laser technology used makes it possible. You will be satisfied with the quality of the "Route 66" metal sign.
Ready for shipment in 20 days
In the kit, you only need one minute to design the "Route 66 original" sign. Since we make it individually for you, it takes 20 days to manufacture and prepare for shipping.
CONSTRUCTION KIT - METAL SIGN "ROUTE 66
Create your personal wall decoration sign now