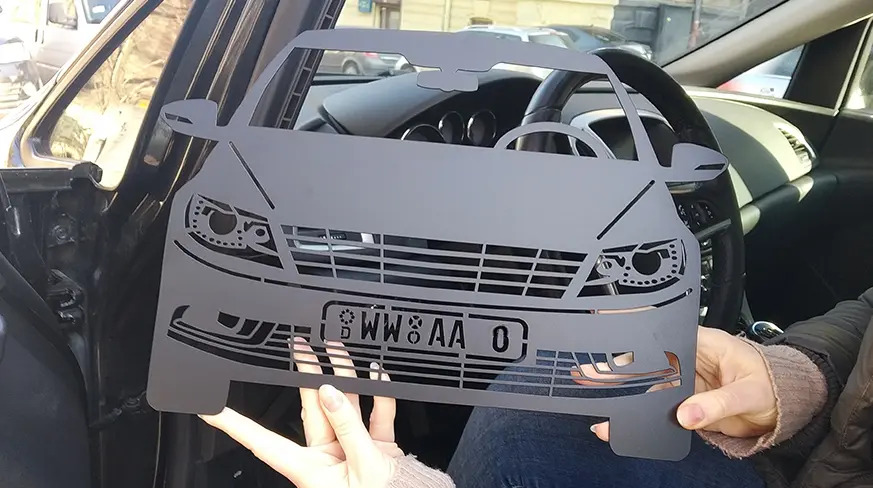 Turn your car silhouette into a real eye-catcher
We trust your taste. That's why you can print your own metal sign. Choose your car model on our website - and our designers will create a cool accessory for you.
Personalised metal signs - timeless accessories
Your individual metal sign is well suited as a living and office accessory. It is a premium product and is made of a high-quality material. You can be sure - your metal sign is a timeless accessory.
Printing a tin sign - giving pleasure to others
Give pleasure to your friend who, just like you, is a car lover. He will appreciate such a gift. Or even his mouth will be open when he sees the metal sign personalized for him for the first time.
Features of accessories personalized metal signs:
Modern accessory with your car silhouette
First class manufacturing
Everything according to your individual taste
METAL SHIELD PRINT GALLERY:
Your accessory in different sizes
If you love your car and are a true car lover, then this accessory is just right for you. Your car silhouette can be a modern wall decoration. Made of metal (painted black, chrome or white), you can get this accessory in different sizes (from XS to XXL).
Personalised metal signs - ideal for home or office use
Individual metal signs with your car model are lightweight and will look good on any wall.
Print metal sign? No problem!
On our website, the ordering process only takes two minutes - choose your car model from the construction kit. This will give you an original accessory with your car silhouette. Satisfaction with this accessory is guaranteed.
CONSTRUCTION KIT - METAL PLATE PRINTING:
Create your personalized tin sign now:
More products from Auto4Style
Feedback from our customers
4.9 out of 5 stars (based on 139 reviews)
Das ganz besondere Geschenk!
Sehr(!!) gute Qualität! Top Verarbeitung! Ich bin äußerst zufrieden!
Portachiavi 😊 👍
Il mio portachiavi per la mia nuova auto è arrivato oggi. È venuto fuori molto bene. Grazie ancora. Ne ho anche ordinato uno per mio marito. Non vede già l'ora di farlo.
Super grande!
Sono super eccitato! Il regalo è stato incredibile!! Grazie per le vostre idee e continuate a tornare!
Porte-clés avec plaque d'immatriculation
Première commande, tout simplement top, ma fiancée est ravie.
Merci
Schlüsselanhänger mit Auto-Kennzeichen
Erste Bestellung, einfach Top,meine Verlobte hat riesen Freude.
Danke
Spitzenmäßig
Meine 3. Bestellung mittlerweile. Wieder top zufrieden👌 Von der Bestellung bis zur Lieferung alles supi!
top Ware zu einem fairen Preis
Ich habe mir eine Kette mit Anhänger gekauft und bin begeistert. An der Qualität und dem Preis gibt es nichts zu meckern! Ich würde wieder kaufen.
KFZ- Papiere Tasche mit individuellem Foto
Ich hatte für meinen Sohn die kleine KFZ- Papiere Tasche für Führerschein, Zulassung und Nachweispapier der Nachrüstungen für sein Motorrad bestellt. Ich habe ein Comic Motiv mit eigenem Bild und seinem Kennzeichen fertigen lassen und bin echt begeistert. Sieht Hammer aus und wird bestimmt eine Überraschung zum Nikolaustag werden.
Magnet / Kennzeichen
sehr freundlicher Kundenservice 🙂 Ware top gerne wieder
Schlüsselanhänger
Ich bin begeistert. Es sieht super aus.
Lufterfrischer
Sehr gute Qualität.
Versand könnte schneller sein.
Produkt sieht sehr gut aus.
Hervorragend
habe mein neues Feuerzeug bekommen super das ist
Qualität kann ich zu 100% Weiterempfehlung sagen
freundliche Grüße Günter
Super toll!!!!
Bin super begeistert!!!! Geschenk war der Hammer!! Vielleicht wäre ein Zigarettenetui zum Feuerzeug noch eine Idee! Danke für eure Ideen und immer wieder gerne!!!!!!Klassssse!!!!
sehr gute Ware
ich habe mehrere Male hier bestellt alles perfekt sehr gute Ware auch die Versandzeit ist ok, 100% Weiterempfehlung
vielen Dank
Total geil
Habe eine Fahrzeugscheinhülle bestellt und diese kam innerhalb 3-4 Tagen an. Super!!! Hülle ist auch total schön. Bin begeistert 🤩
Gute Produkte und schnelle Lieferung. Was will man mehr 👍🏼
Print tin signs - beautify your house!
Personalized tin signs enrich your interior in a very personal way.
Be your own designer - design your own tin sign!
Printing metal signs - both for home and office use.
The modern accessory with your car silhouette brings a smile to your face when you come home.
You can print a great metal sign, such as your friend's car model, and create a perfect gift for him.
Personalized tin signs are a handmade and high-quality accessory!
Printing tin signs - a perfect product if you, like us, love your car.
You like cars? Then take a look at our other categories and discover more unique and desirable car accessories.