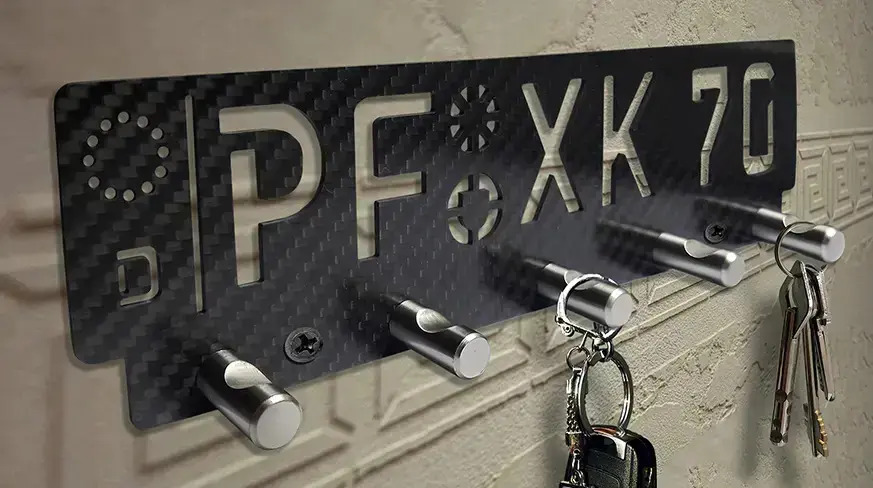 Key board with number plate - noble and practical
Our key board with license plate not only decorates your home as an elegant decorative piece, but also has a practical use in that you can now always find your keys in the same place.
Keyboard black carbon, made in 10 days
In just 10 days, your key board will be finished with a high quality carbon number plate, giving the end product lightness and stability.
The personalized key board Carbon is "in"
With your carbon key board you are absolutely trendy. The break-proof and light material is today, because of its good characteristics, a popular material. The automotive industry is no exception.
Features of the Carbon Keyboard:



Individualized with your car

One of the most beautiful gift ideas
You're thinking back and forth about what you could do to surprise a car fan? Or are you already looking for a cool present for his birthday? Then you've come to the right place! A key board with number plate - one of the most beautiful gift ideas ever!
Trendy jewellery for your home
Our black key board gives your home a stylish look. Put this top accessory on a wall and set a trend.
Practical benefit guaranteed
Our carbon key board is a noble piece of jewellery and at the same time has a practical use. Order a key board with license plate and put an end to the constant search for keys!
CONSTRUCTION KIT KEYBOARD BLACK:
Create your Keyboard Carbon now
More products from Auto4Style