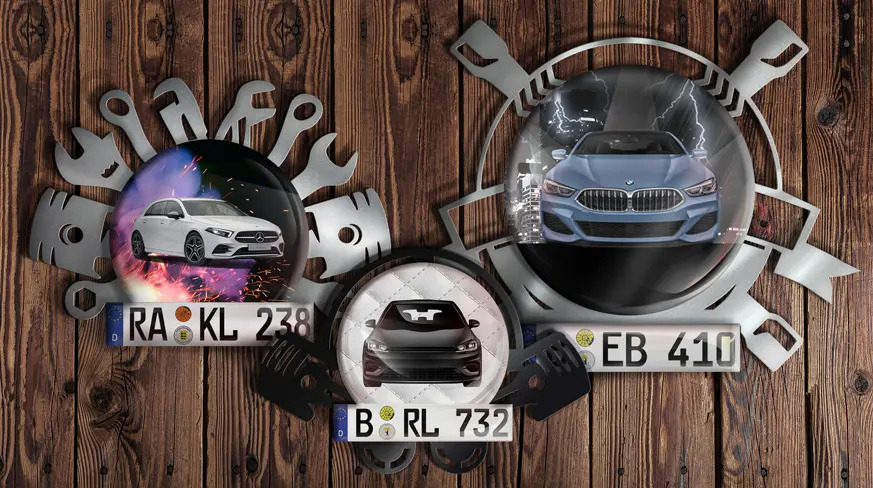 Garnished with your favourite car model
Create your garage sign with your favourite car. Make, model, year, colour, number plate - you decide! Or simply upload your picture for your motif and we'll get to work.
Komplett personalisiert
Additionally you can choose a suitable background design. No problem at all thanks to our modular system on the website. The result is a stunning sign for the cellar, workshop or other hobby rooms.
A unique gift
Our metal wall signs are coveted gifts and just the thing for your friend or someone who really appreciates cars.
Characteristics of the sign for the garage
Modern Accessory mit deiner Autosilhouette
Available in different sizes
The wall sign is available in sizes "S" to "XL". The exact dimensions can be found in the size selection in the construction kit.
Quality through interaction of material and technology
Thanks to the precise CNC technology, you will receive a cleanly processed basement sign made of black metal. The motif is provided with a high-quality coating and is thus protected against weather and scratches.
Delivery in approximately 6 days
Our stylish metal wall signs are ready for shipping in about 6 days after ordering. Dowels and screws are included.
CONSTRUCTION KIT - DECORATIVE SIGN
Create your personal wall sign now:
More products from Auto4Style
Feedback from our customers
4.9 out of 5 stars (based on 96 reviews)
fahrzeugscheintasche
die Lieferung kam schnell an, aber leider nicht da, wo es ankommen sollte. ansonsten sehr zufrieden
Ein nettes Zubehör
Für mein Bike und mein Auto einen Schlüsselanhänger mit Kennzeichen machen lassen. Schaut gut aus und gute Qualität.
Feuerzeug
Schnelle Lieferung, sehr guter Artikel. Liegt schon in der Hand. Ein richtiges kleines Schmuckstück. Bin sehr zufrieden 👍
Schnell und zuverlässig
Die Lieferung kam nach 4 Tagen, obwohl ich ein personalisiertes Produkt bestellt hatte. Kommunikation per E-Mail funktioniert zuverlässig. Whatsapp wird angeboten – darauf erhält man allerdings keine Antwort,
Trotzdem: Produkt einwandfrei und schnell geliefert
Schlüsseltasche
Die Schlüsseltasche ist sehr schön
Gute Verarbeitung schlüsseltasche nicht so groß bin sehr zufrieden vielen vielen Dank
Schlüsselanhänger Auto
Sehr gute Verarbeitung und schnelle Lieferung.
Schlüsselanhänger mit Kennzeichen und Model des Auto gut getroffen.
Nicht nur für persönliche Zwecke sondern auch eine gute Idee als Geschenk.
spiegelduftanhänger
Tolles Produkt.Angenehmer Duft.Gute Verarbeitung
Handyhülle
Sehr schöne Handyhülle, netter Kontakt, sehr gerne wieder.
Der Preis ist es wirklich wert.
Top teil sehr gute Verarbeitung weiterzuempfehlen👍
Top teil sehr gute Verarbeitung weiterzuempfehlen👍
Duft Anhänger spiegel
Top teil sehr gute Verarbeitung weiterzuempfehlen👍
Kennzeichenschlüsselanhänger
Habe gestern meinen Schlüsselanhänger erhalten, sieht wirklich sehr gut aus, bin total begeistert. Auch die Beantwortung von Fragen per e-mail ist kompetent und freundlich. Werde sicher wieder mal bestellen.
Schlüsseletui
Super Qualität und sieht sehr gut aus. Sehr freundlich und zuverlässig 10/10 Punkten!!!
Super Sache
Es war alles super.mein Mann hat dich sehr gefreut und das Portemonnaie ist wirklich klasse. Durch die jetzige Situation fiel der Kontakt leider etwas schlecht aus aber das war nicht so schlimm. Der Ware kam doch sehr zügig womit ich nicht rechnete. Ich bestelle gerne nochmal
TOP Kundenservice, tolles Produkt, zuvorkommendes Team
Perfekte Handyhülle erhalten, sieht sehr professionell aus.
Kundendienst ist super zuvorkommend und stellt den Kunden zu 100% zufrieden.
Ganz tolles Team!
Ich empfehle sofort weiter, bin super zufrieden!
Great items
Fast shipping. Perfect items. 🇮🇹