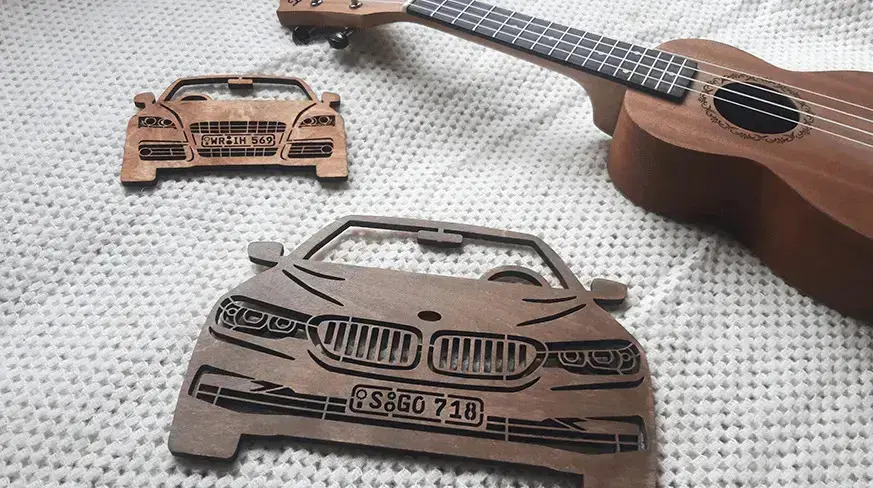 Turn your car model into a real eye-catcher
Simply select your car model from our easy-to-use construction kit on our website. With further specifications, such as year of manufacture and number plate, we create personalised wooden signs in the form of a car silhouette.
Personalised wooden sign - a modern accessory
Your individual wooden sign is the perfect accessory for your home or office. Available in the colours chestnut, cypress or teak, they are an ornament everywhere.
Personalise a wooden sign - and happily surprise others
Your friend likes his car. How do you think he'll react when you give him a personalised wooden sign with his car model on it? He'll thank you for it, if not be over the moon.
Features of the personalised wooden signs

Modern Accessory mit deiner Autosilhouette



GALLERY WOODEN WALL DECORATION (PERSONALISED)
In many different sizes
We offer personalised wooden signs in various formats, ranging from "XS" to "XXL". You can find the sizes with the corresponding dimensions in the construction kit.
German product
Your personalised wooden sign is milled and lacquered in Germany. It is neatly finished and protected from moisture, dirt and radiation thanks to the varnish. This means you get a long-lasting product.
Ready for shipment in 12 days
In our online shop, it only takes a minute to create your individual wooden sign. We need 12 days for the production including preparation for dispatch. Screws and dowels for fastening are included in the package as standard.
CONSTRUCTION KIT - WOODEN WALL DECORATION (PERSONALISED)
Create your personal wall decal now