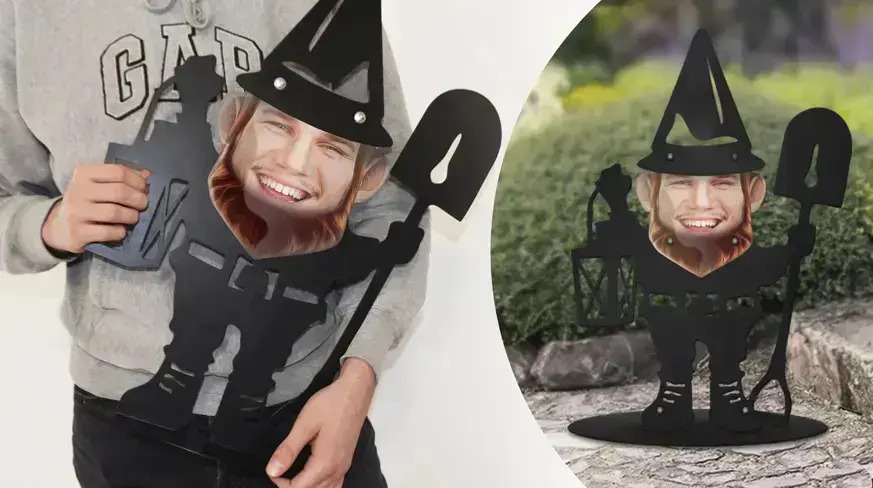 Garden gnome with familiar face
We'll give you a garden gnome with a face you know. Simply upload a photo of the corresponding portrait. And we'll create the photo garden gnome using your template.
Further individualisation options
For your individual garden gnome, you choose one of a total of three metal bodies. You can also choose facial elements such as a beard and ears.
Stable
We offer the personalised garden gnomes with two standing or mounting options. The self-standing version with metal base is intended for use at home and on the terrace. The second version has holes in the base for anchoring in the garden.
The individual garden gnome combines the following features:




GALLERY GARDEN GNOME DO IT YOURSELF
Sizes
Whether large or small gnomes - we offer the garden gnomes in different sizes from "S" to "XXL". You can find the exact sizes and prices in the construction kit.
Adapted for use
Whether indoors or outdoors - the individual garden gnome is powder-coated and thus receives effective protection against rust. The photo face is protected by a special coating that prevents fading due to UV light.
Customised production
We need 12 days from the order to the individual production to the preparation of the dispatch of the photo garden gnome.
CONSTRUCTION KIT - MAKE YOUR OWN GARDEN GNOME:
Create your photo garden gnome now