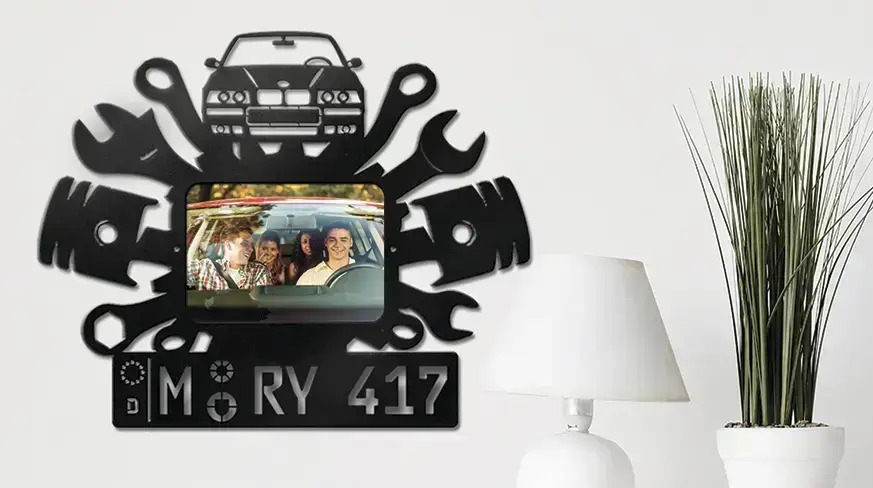 Your car silhouette is a feast for the eyes
Create your stylish sign with photo. Decide which car model you want us to laser into the metal. Choose the right model on our website and we will cut your wall decoration sign to size. You can also have your name or license plate engraved. The plate is the perfect frame for the photo you choose in the centre. The motif can show you or your car. It is provided with a protective synthetic resin and thus made durable.
The metal sign with your own photo - always modern!
Put your individual photo on the metal sign! It beautifies both living and working spaces. This first-class product is made of a high-quality material. Let us print your photo on the metal sign and get an accessory that will keep you up to date.
Our photo signs are also suitable for giving away!
Is your friend a real car fan? Then this original product will inspire him. Surely it is just the right thing for him! Maybe he will miss the words when you hand him the tin plate with his own photo.
Features of the sign with photo

Modern accessory with your car silhouette



GALLERY TINPLATE WITH PHOTO
available in different sizes
This accessory suits you, if you love your car as much as we do. Our photo plates carry your car model, which is cut directly from the metal. The product can be ordered in different sizes (XS to XXL) and is available in black, chrome or white.
Use of the latest technology
Using so-called CNC technology, we can project the cut edges precisely into the material to be processed. For cutting, we use the laser cutting process, which produces accurate cutting patterns. With such a technique your metal sign with your own photo becomes an accessory of the highest quality.
Print a photo on a tin sign? No problem!
Thanks to our modular system, it is very easy to create your personalized sign with photo on our website. It only takes two minutes to complete the order process. Then you will receive an extraordinary accessory with your car silhouette, which you will be permanently satisfied with.
CONSTRUCTION KIT - SHEET METAL PLATE WITH OWN PHOTO
Create now your personal sign with photo: