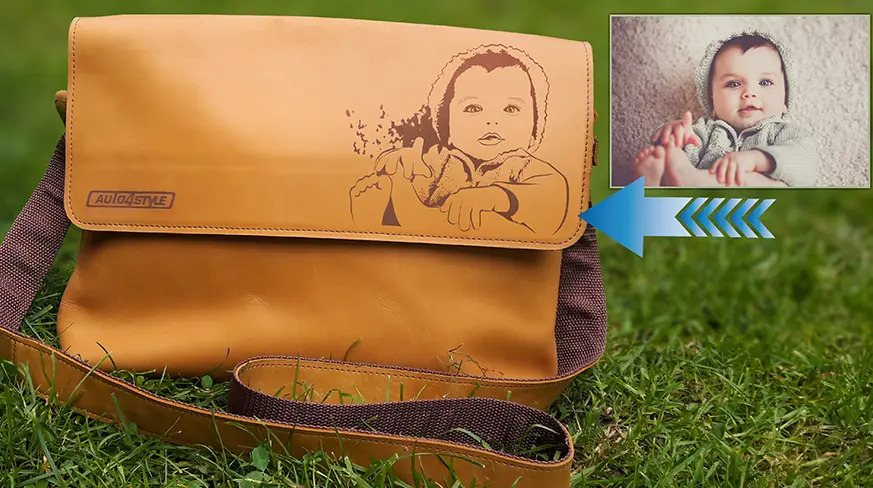 Handbag individual - high quality and trendy
Our fashionable handmade leather bags are available with a lasered picture of you, your loved one or a third person. Our leather handbags are handmade in Germany and are made of high-quality Crazy Horse leather. This material makes your bag robust and also has a pleasant feel.
Leather bag unisex - be stylish every day
Our handcrafted leather bag with the faithful reproduction of the original person becomes an absolute eye-catcher! The unisex leather bag is a very stylish and personalizable accessory.
Such a gift is highly appreciated
Give your boyfriend, girlfriend or other darling a personal gift - she'll be very happy to receive such an original gift with a personal image. Our personalised handmade leather bag is available in three colours - Beige, Brown and Black Brown.
Features of the handmade leather bag:


Individual production of the leather bag


HANDMADE LEATHER BAGS - GALLERY
Excellent quality of our leather bags
Our handmade leather bag - for both men and women - is made of a high-quality material that makes your leather bag both robust and supple.
High quality and therefore durable
In Germany, the handbag is made individually by hand, using high-quality Crazy Horse leather. This makes your bag scratch resistant and durable.
Handmade leather bags: Choice according to your taste
Your handmade leather bag in elegant beige, stylish brown or original black brown will be shipped within 8 days of order. We are always in action, so your individual handmade leather bag will be made quickly for you. Just upload a photo as a motif - we'll do the rest!
CONSTRUCTION KIT - HANDBAGS INDIVIDUAL:
Create now your leather bag!