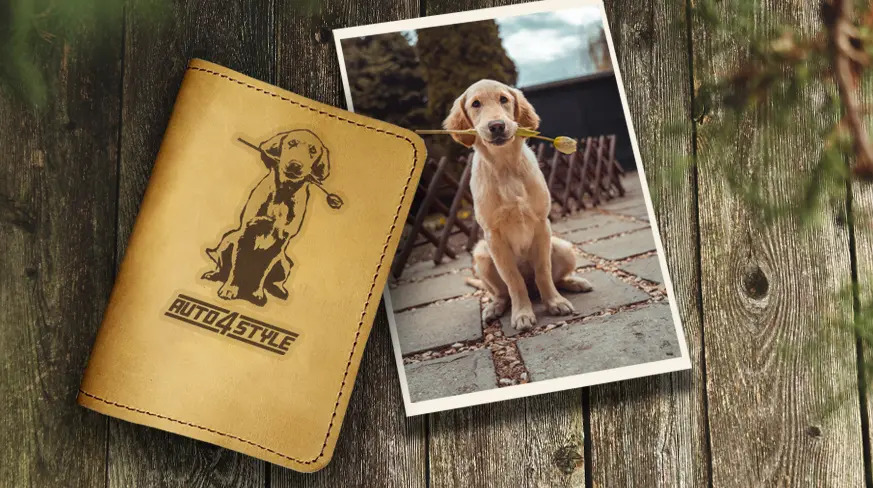 Laser engrave your portraits and snapshots
We manufacture stylish driver's license covers for you from high-quality Crazy Horse leather. The special thing about this accessory is the complete individualization. Because you choose the design of your driving licence cover!Especially for you we have created a stylish hand-sewn vehicle registration leather case made of high quality Crazy Horse leather. You can personalise this accessory with a photo or picture - with your car model, a person or animal picture. Choose according to your preferences!
Practical and trendy
Our leather passport bag has several advantages. It is not only stylish, but also practical. The leather vehicle registration document cover reliably protects your car papers. In addition, it is kept in a modern style.
Extravagant gift idea
The leather passport bag is perfect as a unique gift for your loved ones. Or you are looking for a gift for a special man. Then you've come to the right place. You have a wide range of design options for your accessory at your disposal.
Features of the registration document cover leather:




PERSONALISED-CAR REGISTRATION FOLDER GALLERY:
Stable and flexible at the same time
Your personalized car registration folder has a practical format and convinces with a pleasant feel - your accessory is amazingly supple. At the same time, your car registration document leather cover is very durable thanks to its natural material.
Crazy Horse Leather: Products made of genuine leather are a long seller
What makes you a car fan? Of course your car and the display of your love for him. Our vehicle registration leather cover comes just in time. It is made of high-quality cowhide leather and looks really cool. Real leather is the material for real guys.
Quality focus
We give you the opportunity to customize your accessory. In the manufacturing process we focus on the best possible quality of the final product, which you have designed yourself before.
CONSTRUCTION KIT - LEATHER CAR COVER:
Now create your passport bag leather: