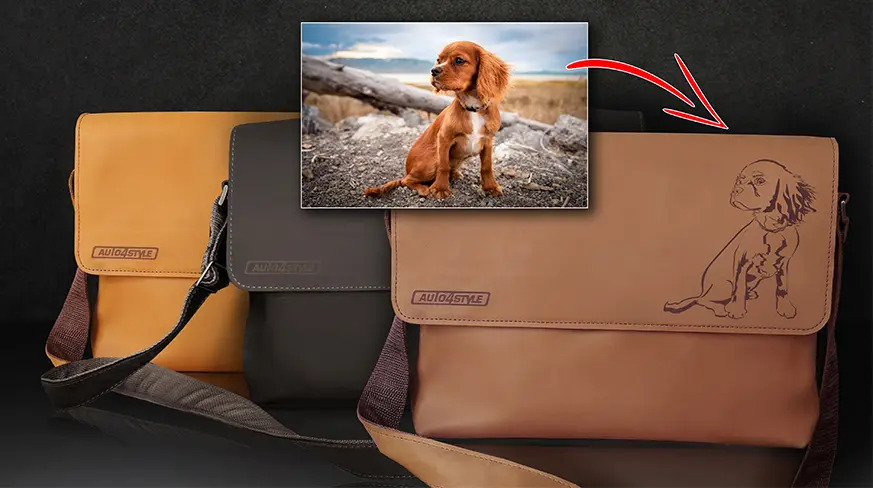 Cats, dogs and hamsters. Which boyfriend do you have?
Your faithful friend will be lasered on your cowhide leather bag true to the original. Engraving leather - that's what we like to do! Personalized bags made of genuine leather enrich your fashionable look and become your stylish companion
Cowhide leather bags unisex - high quality produced and beautifully personalized
Ultramodern unisex bags made of genuine leather can be personalized with the lasered image of your four-legged friend. These accessories are made in high quality in Germany
Cowhide leather bag with animal motif
Your personalized leather bag with animal motif is made of high quality Crazy Horse leather just for you. The bag has a pleasant feel and is available in three colours: beige, brown and black-brown
The leather bag is a perfect gift!


Individual production of the leather bag


NATURAL LEATHER BAG GALLERY:
Unisex leather bag
Our Unisex leather bag - for both men and women - has a cuddly material that is both durable and soft. On the leather we engrave the picture of your best friend true to the original.
Excellent processing in Germany
Your bag with animal motif made of genuine leather is handmade for you in Berlin.
Engrave on the leather - exclusive and trendy
Your leather bag with the lasered picture of your four-legged friend looks really cool. The bags are available in three trendy colours: stylish beige, original black brown or beautiful brown.
Construction kit - Leather engraving for bag:
Create now your leather bag!